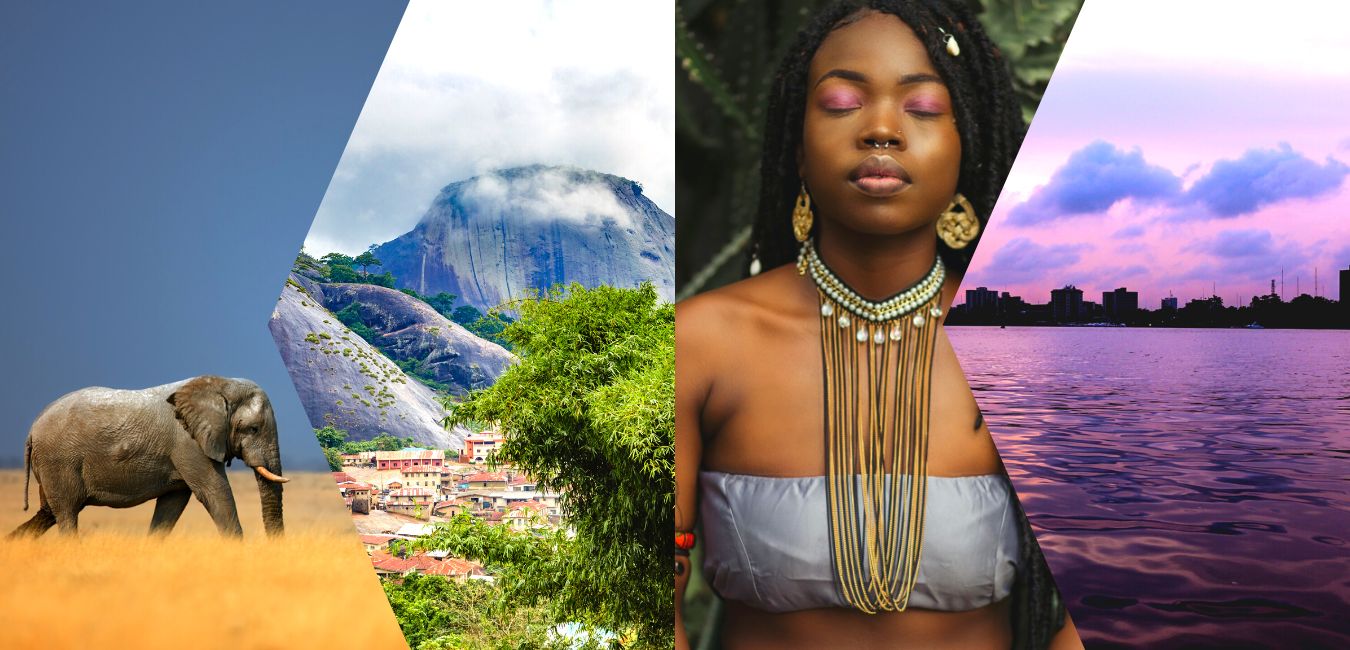 Welcome to our spotlight on Africa travel series. Each month we explore a different African country sharing interesting facts and travel inspiration for your next big trip. Let's begin!

This month we are travelling to Nigeria. The name Nigeria is derived from Niger, which is the longest river in West Africa. This vast country has a population of around two hundred and seventeen million people and is 3.8 times bigger in size than the UK.
Known as the economic powerhouse of Africa, Nigeria is Africa's number one economy and the twenty-fifth largest globally.  Located in West Africa it borders Chad, Niger, Benin, and Cameroon. Although the US dollar is usually accepted, the local currency is the Naira.
It is only natural that Africa's largest economy is also home to Africa's richest man Aliko Dangoti, whose net worth is estimated at $20.2 billion and is also ranked sixty-third globally on the recent Bloomberg billionaire list.
Nigeria is not only one of the most multicultural countries in the world but also one of the most diverse in indigenous languages spoken. Although English is regarded as the official language, it is estimated that there are more than 500 different languages spoken across the country. 
The three largest ethnic groups comprising of over 60% of the total population are the Hausa in the North, Yoruba in the West, and Igbo in the East.
Lagos
A great place to start any travel in Nigeria would be Lagos, the largest city in Nigeria and in Africa. You'll be forgiven for assuming Lagos to be the capital city which it was until 1991 when it was changed to Abuja. 
Lagos is referred to as Africa's big apple and has been ranked as one of the top ten cities to travel to in 2022 by lonely planet.
The city has everything, beautiful landscape, culture, fashion and is a visual delight. A city that's always moving and awash with a chaotic vibrancy. It is a place you can travel to and observe the local lifestyle in its most raw and authentic form, from visiting local markets to art galleries and the fashion district. The art scene there has revolutionised the culture and is one of Africa's shining light. 
One of the largest art fairs in Africa (ART X) is held in Lagos each year. The event features artists from over 40 countries and includes talks. The fair was launched as a dynamic platform to showcase and support the breadth of contemporary art from Africa and its diaspora. This year the seventh edition fair will be held from 4 - 6 November 2022 at The Federal Palace in Lagos.
Whilst you touring the city check out Hans and Rene Gelato, a Nigerian company with some of the best gelato to rival any Italian Gelateria. Perfect to cool down with during a hot day exploring the city.

Lekki Conservation Centre  -  This is the longest canopy walk in Africa, where you'll walk on planks over lush mangroves, learning about the fauna and flora which are native to the area. You'll see birds, fish, monkeys (watch out for these mischievous lot, they are known to grab camera's, shades etc). If you are lucky you can also see crocodiles or a snake or two. This huge expansive of green space is a tranquil oasis of nature and wildlife in a peaceful setting contrasting with the hustle and bustle of the busy city.

Victoria Island  -  For all the foodie types, you may be surprised at the gastronomical offerings at the city's many high-end establishments. Should you need a recommendation then look no further than the tastefully modern Nok, with an elegant interior, and diverse menu consisting of Nigerian and international dishes the restaurant hits the mark. Alternatively you may choose to experience the best of high-class service at Lagos's posh Pan -Asian Shiro Restaurant. It offers Japanese, Korean, Thai & mediterranean cuisines. The restaurant has a bar and lounge which also offers late night dining plus outdoor seating and is known for its view overlooking the ocean. 

Surf at Tarkwa Bay  -  Yes, that's right, surfing is a thing in Nigeria and becoming more and more popular whether you wish to surf or surf watch, it is worth a visit at leas to enjoy the beach. Water sports such as jet skiing and water skiing are also common here. 
Located on a small artificial island, Tarkwa is accessible by a 30 minute boat or water taxi from Victoria Island. Usually crowd and noise free, it is a good place to meet up with friends or family for a unique atmosphere. 
Images from left to right; Artists from the Art X 2021 in Lagos, Niger River and one of the exhibitions at Art X.

Abuja
The capital is a great place to unwind post visiting the hustle and bustle of Lagos. Located in the middle of the country, this city was built in the eighties and is one of the easiest cities to navigate as roads and transportation are at a high standard and relatively inexpensive.
One can visit the Jabi Lake, which is a calming and beautiful body of water that serves as a recreational area for residents and visitors adjacent to Jabi Park, which offers horseback riding, and a mall for all shopping needs. Jabi lake also offers boat rides, water sports, and scenic views especially during the evenings. A visit to Gurara Falls should also be on your list as the falls is a favourite for bird watchers and great for picnicking. The Usman Dam and Pedam Lake are also great for picnicking, exploration, and bird-watching.
 
Zuma Rock
Hike the most famous rock in Nigeria, Zuma rock. Located near Abuja, standing at around 300 meters (980 feet), Zuma Rock is one of the highest and largest monoliths in the world. Hiking up to the top of the rock on average takes about five hours. The natural monolith is located in the western part of Nigeria, near the capital city of Abuja.
The rock surface has human-like facial feature imprinted on the rock due to the natural run off of water creating the facial features. It is one of the most prominent landmarks in Nigeria, and since 1999 has been printed on the country's 100 Naira notes.

Yankari Game Reserve
Yankari National Park is a large wildlife park located in the south-central part of Bauchi State in Nigeria. It covers an area of about 2,244 square kilometres (866 sq mi) and is home to several natural warm water springs, as well as a wide variety of flora and fauna. Its location in the heartland of the West African savanna makes it a unique way for tourists to watch wildlife in their natural habitat.
Yankari was originally created as a game reserve in 1956, but later designated Nigeria's biggest national park in 1991. It is one of the most popular destination for tourists in Nigeria and, plays a crucial role in the development and promotion of tourism and ecotourism in Nigeria.  If you are feeling adventurous after seeing all the animals on the safari, take a dip in the Wikki warm springs and also explore one-of-a-kind caves.


Nigerian Storytellers
Nigeria is home to a wealth of talent including incredible authors from Chinua Achebe to Chimamanda Ngozi Adichie to the Nobel Prize winning Wole Soyinka.

One of our favourite authors is Abidemi Sanusi, she is a Commonwealth Writer's Prize nominee and writes captivating fictional stories that transport you to another land with a different perspective. Abidemi has a unique way of making you emotionally invested in her characters with much laughter and thought provoking situations along the way. Abidemi Sanusi has written many books including the popular 'Looking for Bono' and 'Eyo' which can be purchased on Amazon. This is one author that should be on every fiction lovers reading list.
Images from left to right; Zuma Rock, a lioness at the Yankari Game Reserve and 'Eyo' by Abidemi Sanusi.
Until Next Time
The list of places to visit and activities is endless in this vast country but we hope that this article has stirred an interest in visiting this beautiful country, rich in culture and history but also exploring West Africa, a place like no other. 

We will be visiting many more unique and beautiful places across the continent over the coming months so be sure to check back. Until then, take it easy and don't forget to share your African travel experiences with us. Asante.